Wood Shop
Lords! Ladies! Goblins of all ages! I'm so very pleased to introduce the newest offering of my wacky endeavors: The Wood Shop!
I have been deepening my connection to the craft of Luthiery and woodworking over the last several years, and am excited to announce that I will be making pieces available for sale here on my website. What can you expect? Well that's a great question! Right now, I have a selection of dancing puppets, and soon I hope to add new and exciting options to tantalize your imaginations and your sensibilities!
At this time, all orders are hand built as orders are placed. Commissions are available now with a lead time of approx 3 weeks or less (subject to current wait-list. Orders are built in a first come, first served basis).
Take a look at what I have to offer below, and if you're interested in placing an order, you can send me an email with the puppet style you would like and we can go from there!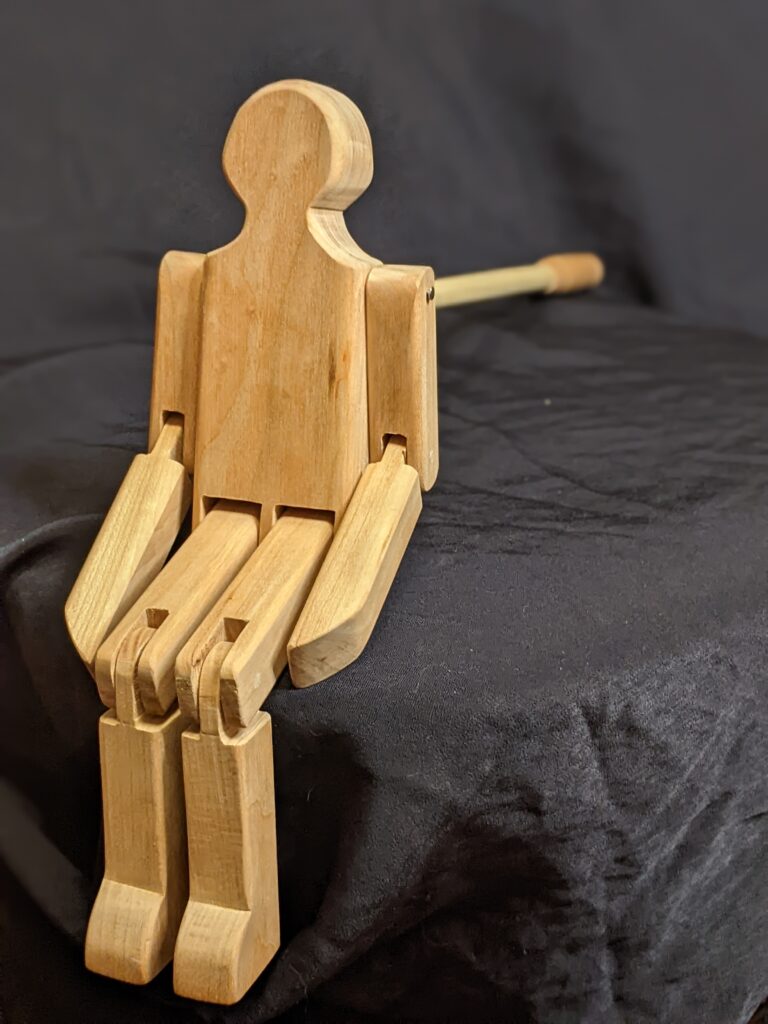 Limber Jack
Simple and elegant, the classic Limber Jack. An old fashioned favorite, the Limber jack is both a fun toy and a simple rhythm instrument. Controlled with a rod in the middle of his back, Jack dances easily and is a joy to watch. His arms and legs both swing freely with an impressive 180º+ range for all joints, helping Limber Jack live up to his name!
Made of Cherry, Maple, or Walnut
Approx 10″ tall
Movement in shoulders, elbows, hips, and knees
$45 each
(photo shows decorative handle upgrade. +$15 for this option)
More photos coming soon!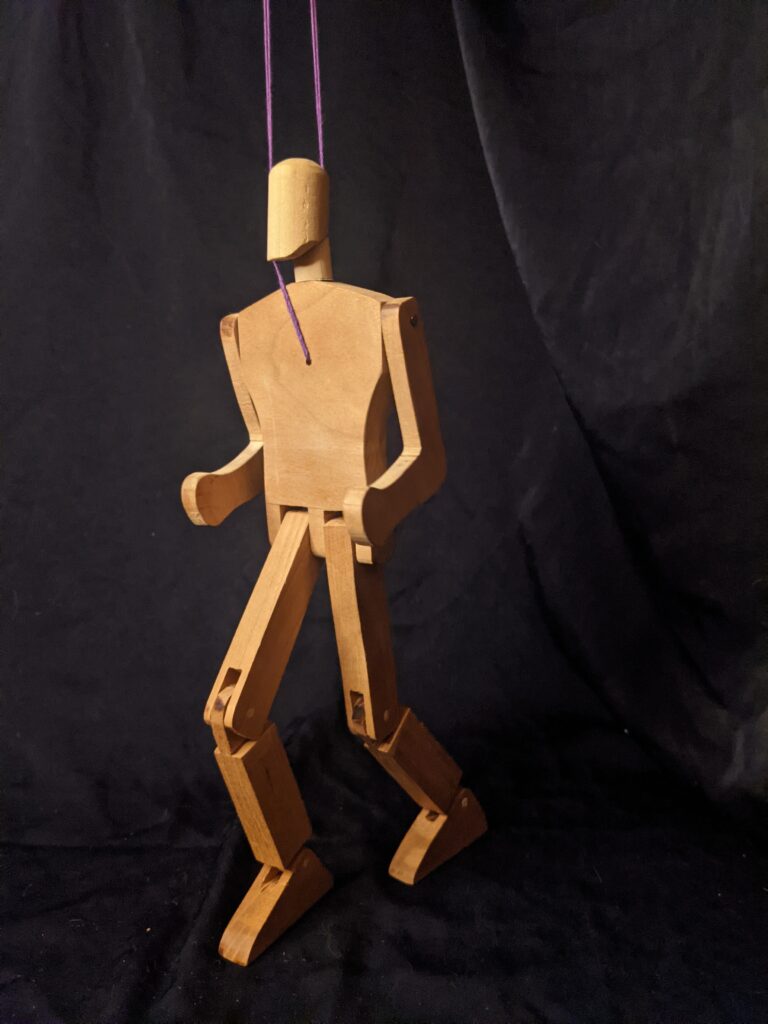 Dirty Dan
Nobody puts Bardy in a corner! A cheeky little puppet that likes to put his hips into it, Dan is a one stringed marionette that loves to boogie! Manipulated by tugging the string, Dirty Dan jumps about and swings his arms in wild windmills. The fixed arm position and the jointed ankles give Dan a little more personality when dancing. For extra fun, Dan can be suspended from the hand while you play an instrument, so he leaps and dances in time with the music. But watch out, Dirty Dan is sure to draw a crowd!
Made of Cherry or Maple
Approx 10.5″ tall
Movement in shoulders, hips, knees, and ankles
$55 Each
More photos coming soon!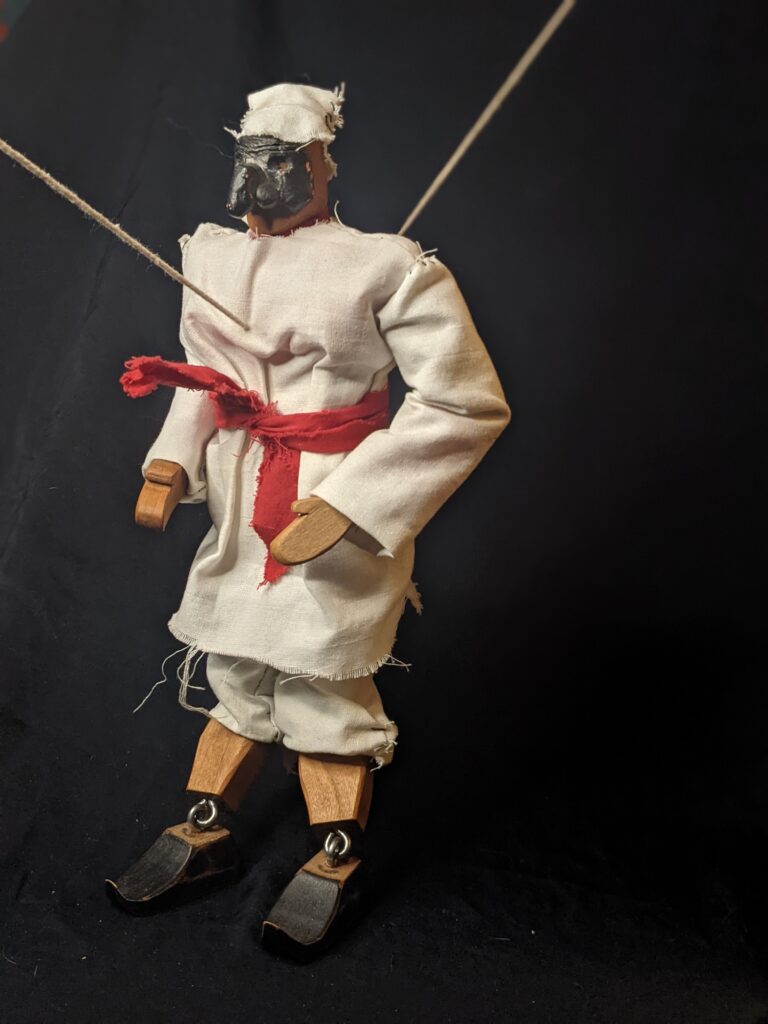 Marionette a la Planchette
The Cream of the Crop! This here is something extra special! Inspired by antique historical drawings of street musicians, this puppet is designed to be used by a performer with their hands full! This puppet is suspended from a vertical rod rising from the included (but not pictured) wooden dance floor, and tied to the performer's leg. When the performer bounces their leg, the puppet springs to life, appearing to dance heartily to the music. Because of the hardware joints, this model is also able to wear clothing for an even more lifelike experience! This one is a guaranteed head-turner!
Made of Cherry, Maple, or Walnut
Approx 12″ tall
Movement in shoulders, hips, knees, and ankles
Includes ≈30″ collapsible hardwood dance floor
Includes one simple costume (will discuss when placing order)
$298 each (discount if you buy 'im nekkid)
More pictures coming soon!